It's been an interesting past few months…
Firstly, I had surgery on my shoulder in August, a procedure I potentially needed prior to The Ultimate Triathlon but for obvious reasons, didn't have done.
What I thought was simply going to be just a quick and simple "clean up job" well, wasn't. I had a lot of inflamed tissue removed, bursa taken out (apparently it will grow back) with some of my acromion (part of shoulder joint) shaved off.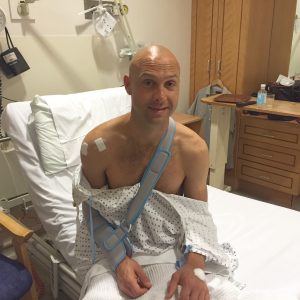 Posing post operation
On top of this, the nerve block I had during surgery wore off quicker than expected, so I was experiencing excruciating pain once the general anaesthetic stopped working.
I then had a reaction to the pain killers I took while at home, which led to me convulsing at 2am, and a 999 call from Vanda my girlfriend, followed up with a trip to A&E in the back of an ambulance.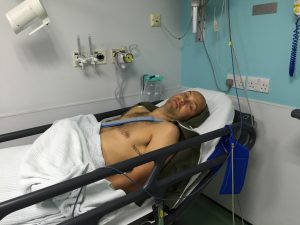 Several hours waiting to see a doctor…
After several hours without a visit from a doctor who could administer some much needed pain relief, I braved a 30-minute cab ride to the hospital where I had the surgery.
Let's just say the morphine I was given hit the spot…
—
Scotland was next, and although not great timing, I went there with an arsenal of recovery tools. Ice packs, painkillers, and my arm in a sling. I was on there to crew for a good mate of mine, in his attempt to swim a Loch Lomond two-way, a cool 70km swim.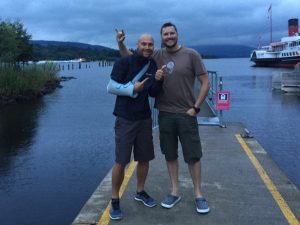 Adrian and the one armed Aussie…
After setting off in near perfect conditions at 2am, post dawn not only provided a natural light, but also the wrath of Mother Nature. The wind picked up, and created a rolling swell, I'd never seen anything like it before.
The weather got the better of Adrian after nine hours of swimming, four of those battling fierce winds. I've never seen anyone battle for so long while swimming, I'm very proud of his gallant effort!
—
I then headed to Chamonix in the French Alps, to help another mate (Tiny) prepare, and complete his first ever mountain triathlon. I had planned to race this event as well, but with only one working arm, I spent the days settling his nerves, and tapping away on my laptop working in the crisp mountain air.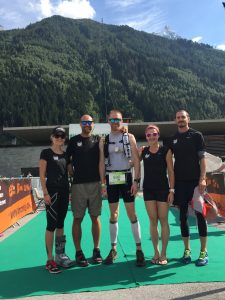 The PRC Crew in Chamonix crewing for "Tiny"
Then in September, The Ultimate Triathlon Documentary was ready to be shown to the world. Screenings started in London, before being shown in four countries across three continents; something I've very proud of, as I organised the screenings with just a little help from a few people.
The screenings started with the World Premiere at the historic, and beautiful Olympic Cinema. It then bounced around the UK, complete with an appearance in Belfast on the emerald Isle.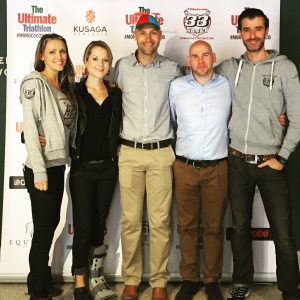 The Ultimate Triathlon Family at The World Premiere
A whirlwind three weeks only picked up more steam when the film and myself flew over the Atlantic, landing in LA mid October. Everyone who attended the North American Premiere absolutely loved it!
What a surreal experience seeing the crew and myself up on the big screen in Los Angeles.
Alongside a few meetings, some speaking engagements, and several interviews that were organised prior to me jumping on a jet plane, I managed to soak up some autumn sunshine as well.
For the remainder of 2016, which has been very much a year to reflect on what I've achieved, while transitioning into the next stage of my life, post Ultimate Triathlon; I've been focussing on just two projects.
The first is very exciting, as it's my next BIG challenge that I'll be completing in 2017. After spending 2016 overcoming many obstacles to do with my health, and a massive adventure I was to be part of falling through, I'm excited to reveal what it is I'll be doing next at some stage during November.
I believe, it's even crazier than The Ultimate Triathlon.
I've also taken this opportunity to team up with an amazing charity close to my heart, raising some serious cash to help as many people as we can.
All very cryptic I know, but stay tuned for more information…
And Secondly, I've been busily completing the first draft to a book I've been writing about the journey that has been my life. All the ups and downs alongside plenty of juicy stories about all the adventures I've been on will hopefully be a fun and inspirational read for all.
It will be out next year, so watch this space for details.
I'm being extremely open with my writing, and have revealed many struggles I've faced during parts of my life that I've kept hidden away from everyone.
This has led to some extremely emotional days tapping on my keyboard, and me getting very much out of my comfort zone.
But, I'm finding that although difficult, pushing myself through this discomfort a little more each and every day has helped me to understand myself, and life a little more, while enabling a new level of growth in my life.