"When reaching your limits, it's only there where you'll catch a glimpse of your true potential!"
I've been a qualified Personal Trainer holding a degree in Exercise Science for many years. I've been lucky to have worked with many professional sporting clubs, athletes, and other fantastic trainers, osteopaths, and physiotherapists throughout Australia, The U.S.A, Belgium, and UK gaining valuable knowledge and experience along the way. I've trained clients across all sports, and to achieve many different goals from climbing mountains, improving their agility on the sporting field, or to simply keep fit.
From running your first 5k (or 100k) race, losing weight, building muscle, gaining self confidence, or to begin your journey into endurance sports; I can help you achieve your health or fitness goals.
Everyone is so busy these days, so taking family, work, and life commitments into account when developing a plan to achieve your goals is a high priority of mine. The combination of physical and mental training, with a focus on creating healthy and sustainable eating habits is my approach.
You get one body, so it's vital to take care of it, exercising while eating healthy should be a way of life; this is one of my core beliefs.
Health and fitness has been a huge part of my entire life, and something I'm extremely passionate about, with endurance sports being a large focus of my athletic career, especially ultra running.
Working alongside a vast array of runners from newbies who want to run their first ever 5k, others wanting to push themselves in a marathon, or some who simply want to finish a gruelling 100k ultra marathon, are all just as rewarding as one another with no race too short or too long. I will create a unique program, and specific cues to help you become a more efficient runner, building on your own personal technique while preparing you for however many miles may lay ahead, it's always a team effort!
I work out of West London with a base in Chiswick. I train many of my clients at their homes, in a small friendly gym, or in the various parks in surrounding areas.
I also work with other clients and athletes on a consultancy basis supplying training programs, support, and nutritional plans via Skype, phone and email consultations as well.
If you are interested in working together to achieve your health and fitness goals, not just this year, but for life then please get in touch for a free consultation. [email protected]
Luke
The Adventure. The Travel. The Challenge.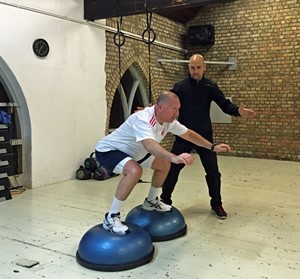 Testimonials
Joanne Elliot
Goal: A sub 4-hour London Marathon
Luke is an inspirational coach & mentor. He was a huge support to me and brought relentless energy & positivity to my marathon training…all the way to the finish line in April 2014, when I completed my first race in London within a target time of sub 4 hours. Achieving this goal enabled me to raise a significant amount of money for a local Hospice charity in Northern Ireland.
From the outset, Luke took the time to really understand what was important to me and where my motivations (and fear points) lay and created a well thought out training & dietary programme (his banana cake recipe is divine) that we monitored on a weekly basis, and tweaked as necessary, as the demands of work & life became a juggling act. Luke brought a great sense of organised calm and perspective to everything – I definitely had my fair share of Bridget Jones moments – but nothing was insurmountable, and progress and consistency were the order of the day.
What I loved about Luke's coaching style was his encouragement to take ownership for my own needs as an individual. Rather than dictate what I should or shouldn't do, he had a very clear sense of his own values and openly shared his experiences, whilst recognising what works and evolves for one person, may not work in the same way for another. Instead, we discussed ideas, we experimented, we adapted and we evolved a plan (training, diet, sleep, rest, kit, race plan etc) that worked for me at that point in time. The journey was truly inspiring and it's definitely sparked an appetite for more.  Luke's coaching around mental strength was also invaluable and I've certainly gone on to draw upon it in many other day to day aspects of life since.
I have lots of fond memories training with Luke – he really taught me to thrive on challenges as a way of life, see them as adventures and to ENJOY the whole experience – which I thoroughly did. Thanks for ALL the laughs!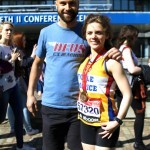 Post London Marathon
Paul Wiese
Goal: Complete his first 100 kilometre ultra marathon
In 2012 I was part of a mates support crew for his attempt on The North Face 100 ultra marathon in Sydney, it was an amazing day and sparked my interest in giving it a go for myself. Although I had only completed a few 1/2 marathons and one full marathon, Luke insured me that I would be "ok" and make it to the finishing line of TNF 100 in 12 months from our initial conversation.
Although on the other side of of world, I felt like I had constant support from Luke whenever I needed it. His programs were easy to follow, and our Skype chats were always a good laugh, but informative as well. (Man he can talk).
With his constant communication via text messages, Skype calls, and emails Luke was able to quickly and easily alter any training sessions due to my family and life commitments, this made balancing life with my running and strength training programs very easy.
We worked a lot on the mental side of running ultras, and Luke prepared me well for the highs, lows, and many other emotional tides I would go up against while running 100 kilometres.
I finished my first ever ultra marathon in 19:21 hours, and really felt like I couldn't have achieved this goal without my London based running coach.
Thanks Luke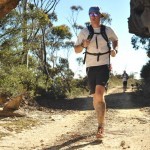 Paul during TNF 100
Sophie Manthos
Goals: Lose 4 stone (25 kgs) for wedding/Maintain Health & Fitness, and to break bad food habits.
Luke is a true survivor. He has persevered in conditions where most people would just find despair.                                               (Like his China Adventure)
He shows great mental, and physical prowness, determination, and a leaning towards recklessness at times. (Like his Marathon des Sables race)
However, he is far from reckless when it comes to working with his cooking and coaching clients. Luke is very sensitive to the needs of those he works with, both physical and psychological sides. Each session is different, simply because we don't always feel the same before each session.
I have suffered from severe anxiety my entire life, and Luke has gradually gained my trust and confidence, while never giving up on me, or belittled my feelings. He is one of the kindest people I know.
Luke knows when to push, and when to take a step back during the sessions he constructs for me. He constantly surprises me with the depth of his knowledge regarding fitness, the body, and the mind. He is an excellent trainer!
He has many strings to his bow, including cooking (or creating) fabulous cuisine in his own unique way. By following his advice on eating habits I lost 4 stone for my wedding, and feel great. It's not always easy being disciplined, but as I know Luke is only a call or text away if I start to wobble, this helps me stay on track.
Thanks for all your help Luke. 
Sophie's wedding day
Nicholas Brown
Goals: Increase Health & Fitness/Climb Mountains
I met Luke five and a half years ago. Without exaggeration he has changed my life.
At the age of 54 I was just post prostate cancer (I no longer have cancer, thankfully!), was struggling with my MS (which I have been battling for some 37 years), a demanding corporate job and, albeit a regular gym user, was not making an impact on my weight or fitness. What was seriously impressive was that in between the briefing and our first session he had studied MS and knew how to put a programme together which would both suit and challenge my limitations, focussing on balance and coordination as well as strength and stamina.
There have been times when we have had to back off due to MS attacks (which have become less impactful as I have got fitter) but slowly the intensity and the pace improved to the point where I can claim to be exceptionally fit and have started proving that with hiking and rock and mountain climbing expeditions. My friends and acquaintances all comment with a tinge of envy about how fit and healthy I look.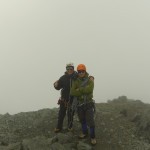 Climbing Mountains in New Zealand
Hannah Walsh
Goals: Ultra Marathon running
The start line of Thames Path 100. The line of a race I didn't plan to run.
It's a May bank holiday and I'm sat crossed legged on the embankment just down from Richmond Old Town Hall. I find a quiet spot away from all the distractions and crowds of the hungry runners, and try to remember what Luke had been drilling into me over the past five months.
"Just keep moving, it's one foot in front of the other."
All I had to do was run, that was it. Apparent and simple, that tiny piece of advice was the best damn advice I was given, and saw me right through to the finish line of my first 100 miler; placing fifth lady.
I first met Luke in September of 2014, and had been following his adventures through social media for most of the year. He had sent out a tweet asking for a final crew member to join his Double Brutal Extreme Triathlon team heading to Snowdonia National Park in North Wales for his first ever triathlon.
All I remember thinking was this guy is crazy and I want to be a part of it!
Seeing what Luke achieved that day and the limits he shattered both physically and mentally completely inspired me. I wanted to go and explore what was possible and what I found was the start of something amazing.
We spent some time together working out a loose plan, before training began in early 2015. The nature of my work meant I often had long days of back to back travelling, so there were always options to adapt the plan if I missed a session. As volume increased, my runs transitioned from being clocked in kilometres to hours. This helped me stay present and in the moment, while really listening to how my body was feeling.
One thing I was never particularly good at was sitting still; but Luke always emphasised just how important it was to incorporate rest into my routine.
As race day dawned my training wilted; I became restless at what the next 24 hours would bring. Having Luke's expertise and knowledge behind me on the day kept me calm and focused on the miles ahead. He joined me at mile 51 where the hard work really started. Luke not only encouraged me to take on food when I didn't want to eat, but found ways of motivating me, which meant I could endure pain I never thought was possible.
This was my first 100 miler and third ultra distance running race.
My goal was to cross the finishing line knowing I had given everything I possibly could, and with a smile on my face. To say I have shared this experience with someone I can not only call a coach but a friend makes me extremely proud, and excited to work with Luke moving forwards into 2016.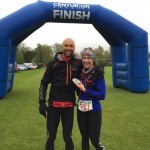 Proud coach and athlete