Becoming interested and intrigued at a very young age about food and the benefits of a healthy diet for sports performance, I spent a lot of my time in the kitchen, and reading sports nutrition books and magazines growing up. Throughout my late teenage years, I was slightly obsessed with eating as healthy as I could, cutting out refined sugars, processed foods, and saturated fat, all the while continuing to research the benefits of "whole-foods." This thirst for knowledge continued throughout my twenties where I studied for a Bachelor of Exercise Science while playing football around the world. I continued to read the latest research on nutrition for optimal peak athletic performance, and spent many hours in the kitchen experimenting with different flavours, textures, and ingredients, cooking and learning about food is how I unwind and relax.
I ate a stereotypical athletes diet, with a mix of carbohydrates, proteins, and fats while feeling healthy and strong.
But, after two years of training for endurance sports, and just before my 30th birthday out of nowhere my body decided to reject the way I ate. I began to suffer from severe bloating, gas, stomach pains, constant tiredness, and a decline in athletic performance without anything else changing in my diet or life.
I've experimented with many different types of foods, ways of eating, and have seen many specialists, and other practitioners; I'm currently following what I call The Natural Way of eating, and feeling better.
The Natural Way is a simple, real food approach to eating. This approach comprises of very limited amounts of natural occurring sugars, no wheat, gluten, dairy, refined or processed foods. It's high fat, micronutrient rich, daily eating routine that helps fuel me throughout each day, and during my training, all the while encouraging my body to use fat as fuel more efficiently. Yes I eat carbohydrates, but not necessarily with every meal.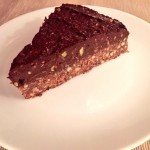 It's Real Food, all the time, made quick and easy, while extremely tasty! I've not come up with a new latest "way of eating" with promises on promises, but rather try to show people that with a little bit of knowledge, confidence in the kitchen, and fresh produce; YOU can make healthy and nutritious food for yourself and your family.
I'm constantly trying to get to the bottom of what is going on inside my gut, but for now, The Natural Way is helping me get through most of the time pain, and bloat free.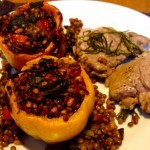 I have experimented and developed The Natural Way of eating through my own personal food journey, incorporating using real food to fuel my extra long endurance training sessions and events. Gone are the days that I munch down an energy bar from the health food store, or suck on a sticky gel, it's only real food all the time for me.
I spend just as much time in the kitchen experimenting and creating new recipes as I do training and preparing for my endurance adventures, I love cooking, and knowing exactly what it is I'm putting in my body, each and every meal, snack, or as fuel during my challenges is extremely satisfying, and rewarding.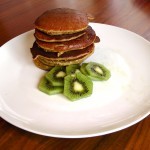 I encourage this approach with my numerous personal training clients to lose weight, put on muscle, feel healthier, and increase their sports performance. Several of them have also taken cooking lessons with me to further enhance their knowledge, confidence and skills in the kitchen.
I also bake for a cafe in my local area of London, I love seeing people who buy my products get lost in the flavours while enjoying a tea or coffee at the cafe, it's an amazing feeling.
I am currently working on a wheat/gluten/dairy free cook book, full of Real Food recipes. It will be filled with all my favourite recipes that I use on a regular basis.
We all have to eat, so why don't we all LOVE what we eat too.
The Adventure. The Travel. The Challenge.
Luke
If you are interested in learning more about The Natural Way of eating, would like to take Confidence in the Kitchen cooking lessons, or have me bake/make you some sweet and savoury treats for any occasion, please get in touch.  [email protected]
Orange Chocolate Muffins (vegan)
 Pocket sized parcels of goodness…
Ingredients
– 1 cup ground almonds
– 2 Tbs maca powder
– 2 Tbs ground flax
– 3 Tbs cacao nibs
– 2 Tbs chia seeds
– ½ Tbs cinnamon
– Rind of 1 orange
– 3 Tbs coco oil (melted)
– 3 small (2 medium) ripe bananas
Directions
– Preheat oven at 180 degrees Celsius
– On low heat, melt coconut oil
– Sift ground almonds, maca powder, ground flaxseeds, and cinnamon into large bowl, then add all other dry; mix
– Mash up banana with orange rind and add (with melted coconut oil) to dry ingredient mix
– Pour mixture into muffin cases and leave to sit for 10 minutes
– Bake for 20 min
Leave to cool on cooling tray
– Munch!
 * Makes 6-8
Store in airtight container for 5 days.
Chickpea Bolognese with Courgette Spaghetti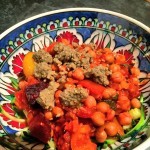 A Vegan alternative to a timeless classic…
I use a spiralizer who this recipe.
Ingredients
– 300g chickpeas (drained weight, tinned are fine)
– 6 or 8 medium vine ripened tomatoes
– 1 yellow pepper (capsicum)
– 1 medium sized raw beetroot (or cooked if you couldn't be bothered roasting it yourself)
– 1 medium sized white onion½ Tbs cinnamon
– 2 Large cloves of garlic (or three if you don't plan to speak with anyone the following day…)
– 2 Tbs dried oregano
– Large bunch of fresh basil
– 1 large courgette (zucchini)
– 1 lemon
– 1 Tbs olive oil
– 1.5 Tbs coconut oil

Directions

– If using a raw beetroot, turn oven on to roughly 240C, peel and chop beetroot up into eighths. Wrap in foil, and once oven is preheated, bake for about 30 minutes (or until it is becoming soft)
Allow for this time when when preparing.
– If you're using already cooked beetroot, start at the next step.
– In a large pot on a hob, heat 1 Tbs coconut oil on a medium/high setting.
– Once oil is completely melted, add chopped onion and garlic (oh yeah, chop those up)
– Wash and chop up pepper into small chunks, and tomatoes into eighths.
– Drain and wash chickpeas.
– Stir onion/garlic mix occasionally, and once onions begin to slightly brown, add chickpeas, chopped pepper, tomatoes, cooked beetroot (cut into eighths) and juice of entire lemon. Stir, cover, and turn heat down to low/medium heat (2-3 ).
– Wash courgette, and use spiralizer to make noodles, set to one side.
– Continue to stir chickpea mix every 5 minutes. Once tomatoes begin to soften, add chilli flakes, dried oregano and basil leaves (just tear them up, use as much as you like) cover and leave to simmer on low heat (1-2) for at least 20 minutes, stirring once/twice. (You can leave to simmer longer, but we all get hungry…)
– When you're ready to eat, heat a pan/pot with remaining 1/2 Tbs coconut oil on high, once completely melted, add courgette noodles and stir constantly for 3 minutes.
– Place noodles in a large bowl, add olive oil with salt & pepper, and mix through. 
– Serve your chickpea bolognese on top of your courgette "spaghetti," and if you fancy some vegan "cheese" add a few crumbles of my Maca "Parmesan" Vegan cheese (recipe below.)
– If you've any left over basil leaves, throw them on top to garnish.
TIP: If you make extra and leave in the fridge, it tastes even better after a day or two (but not a week…)
Maca "Parmesan" Vegan Cheese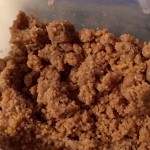 Crumbly, cheesy, and tasty…
I use a food processor for this recipe.
Ingredients
– ½ cup walnuts
– ½ cup sunflower seeds
– 2 Tbs nutritional yeast
– ½ teaspoon salt
– ½ Tbs olive oil
– 1 Tbs Maca powder
Directions
– Quickly blitz sunflower seeds and walnuts until chop up evenly, then add all other ingredients into food processor.
– Blitz until everything starts to stick together slightly, but still crumbles like Parmesan.
– Done!
Store in airtight container in the fridge for 5 days.
Tex-Mex Tomato Soup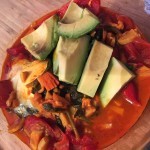 Packed full of flavour, tasty!
Ingredients
– 1 Tbs coconut oil
– 3 cloves garlic
– Thumb sized piece of ginger
– 1 lime
– ½ Tbs chilli powder (medium)
– ½ Tbs smoked paprika
– 1/3 cup freshly chopped coriander (cilantro)
– Large punnet of plum tomatoes
– 1 red pepper (capsicum)
– Handful of baby spinach
– ½ Avocado
– 2 eggs
Directions
– Roughly chop garlic ginger and sauté in large pot with coconut oil on medium heat
– Dice pepper and chop tomatoes in half, add to now sizzling pot with juice of lime and stir
– After 3-4 minutes stir in paprika, chilli powder, coriander and spinach (put lid on pan, and turn heat
down slightly)
– After 15 minutes, turn heat down to low, crack eggs in pot and leave to simmer for another 10 minutes with lid on
– Cube avocado to place on top of served soup.
 * Makes 2 (1 egg each)
Chocolate Banana Soft Serve Ice Cream (Dairy Free)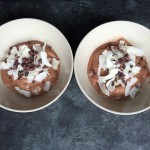 This is one of my favourite recipes…
Ingredients
2 medium sized overly rip frozen bananas
2 Tbs Coconut oil
1 Tbs raw cacao powder
2 Tbs coconut yogurt/coconut milk (or dairy free milk of choice)
Directions
– Peel bananas (may need to use a knife to make it easier)
– Add all Ingredients to a high-speed blender and blend until bananas mashed up
Enjoy
* Top with coconut pieces and cacao nibs or berries
Avocado Sardine Portobello Burger           
* You could also use Mackerel
Ingredients
4 large portobello mushrooms 1 lime 1 avocado 3 large (4 small) cloves of garlic Rocket leaves 1 beef tomato Sardines (tin, 75-100gm) 1/2 Tbs paprika 1/2 Tbs olive oil Cracked pepper Small bunch of flat leaf parsley  
Directions
– Roast mushrooms on baking tray (top down) at 200 degrees celsius for 12-15 mins (until they slightly wilt) then add garlic cloves on same tray and continue to roast. – Mash avocado, lime juice, olive oil, paprika, chopped parsley, and some cracked pepper together. – Add sardines and mash through to a even consistency. – Once garlic just starting to have golden spots, take out of oven, thinly slice, add to a avocado/sardine mix. – On mushrooms (bottom) place a slice of beef tomato, then  portion of avocado/sardine mix with some rocket leaves on top. Squeeze an extra few drops of lime on top if desired. – Using a sharp knife, carefully cut into quarters.   Serve and eat!!     
Banana Chia Seed Energy Slice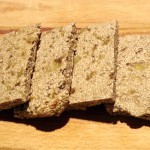 This simple recipe will fuel you for hours, and its tastes AMAZING!    
Ingredients
 2 medium very ripe bananas 4 Tbs Chia seeds  2 tsp ground cinnamon  
Instructions
 – Heat oven to 150 degree Celsius – Mash bananas with back of fork in bowl, add chia seeds and cinnamon. – Leave for 20 minutes (mixing once), then spread out evenly on baking paper on a flat tray (use the back of a wet spoon to spread out same thickness throughout)  – Bake for 5 minutes, flip for another 3 minutes – Leave to completely cool on cooling tray, slice into portions, enjoy!   * Wrap in foil or cling film to carry out running, cycling, or just into the office…     This simple recipe will fuel you for hours, and its tastes AMAZING!  
Avocado Superfood Mash
[youtube id="lPNqekGHXFw"]
This recipe can be modified however you like, and with whatever you fancy, it's merely a guide…
Ingredients
 1 Avocado 1 Tbs Chia seeds  1 Tbs Flax seeds 1 Tbs Pumpkin seeds 1 Tbs Sunflower seeds 1 Tbs Raw Cacao Powder 1 Tbs Maca Powder 1 Tbs Olive Oil 1 tsp ground cinnamon 1/2 Lemon Water  
Instructions
 – Mash Avocado and mix with olive oil – Add all your superfoods, nuts, seeds, powders etc, and lemons juice; mix – Add a dash of water to moisten  – Wait 5 minutes for the chia and flax to absorb some of the liquid – Enjoy!   * This could serve two easily, use teaspoons for single serving, or just half the amount of superfoods you add.  
Blueberry Water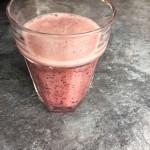 Ingredients
Handful of organic blueberries Glass of water
Directions
– Wash blueberries – Add ingredients to blender, and well blend!  * Add a squeeze of your favourite citrus fruit to the mix prior to blending to give another flavour element to this refreshing drink. Enjoy at anytime during the day, or even before, during, and after a training session!  
 

Lemon Chilli Sea Bass with Wild Rocket & Pine Nut Salad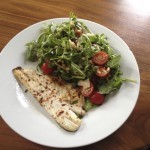 Ingredients:
2 sea bass fillets
Lemon Lime Olive Oil Wild Rocket Cherry Tomatoes Pine Nuts Dried Chilli Flakes Sea Salt and Cracked Pepper Directions: – Place fillets on foil (skin down), squeeze lemon juice over flesh, and add chilli flakes; slide under a grill for 6-7 minutes on med-high heat. – Wash tomatoes and rocket – Chop tomatoes in half, and add to rocket. Then add pine nuts, lime juice, olive oil, and a quick crack of salt and pepper; mix thoroughly. – Squeeze a little more lemon juice on cooked fish, plate up, and enjoy!
[youtube id="68C5F26j2-I"]
This is one started with a dream of Courgette and Apple Fritters…
Ingredients
1 Courgette (zucchini)
1 Apple
4 Eggs
4 Tbs Coconut Flour
1.5 Tbs Maca Powder
1 Tbs Coconut Oil
Directions
– Grate apple and courgette into large mixing bowl.
– Sift coconut flour, maca powder into mixture, stir.
– Mix eggs together then pour into batter.
– Leave for 15 minutes
– In large pan, pre heat 1/2 Tbs of coconut oil on medium/high setting.
– Place three individual large spoonfuls of batter (once oil is hot) in pan, flip after 3-4 minutes, or when fritter is golden/brown.
– Regrease pan with other 1/2 Tbs of coconut oil, once hot, cook three more fritters.
Enjoy
Serving Suggestions.
Mash avocado and lemon juice
Sliced banana
Cured ham & avocado
Hummus
Nut butter