I have cycled for 18 hours non-stop, covered the equivalent distance of the length of Britain (over 1300kms) in just five days on my bike, and enjoyed some of Europe's most amazing cycling destinations while on two wheels; so why did I feel like a little kid at Christmas combined with having the powers of a superhero after cycling for only 30 minutes in my lounge room on a turbo trainer?
A lot of the time throughout our lives we focus on the biggest, best, or most noticeable achievement we've obtained, I guess it's in our DNA maybe?
Most of western society is forever striving to out do one another, be the first at something, have the biggest bank account, or accomplish something faster than anyone has before. Don't get me wrong, I have been this person many times over, but have more recently in life realised this leaves large gaps in our lives of times to celebrate.
In August 2016 I had a shoulder operation, this was from a long-standing injury I sustained in the lead up and during my Ultimate Triathlon from Morocco to Monaco. Then again in April of this year, I needed another surgery on my same shoulder as my recovery plateaued, and then declined.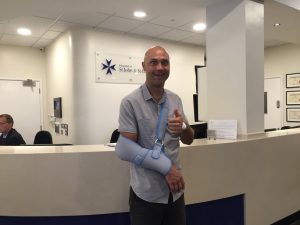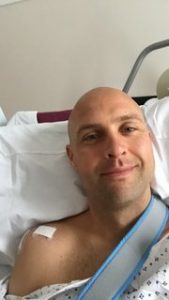 Post operation I took my rehabilitation tediously slow, working with my medical team attempting to regain pain-free full function within my shoulder, something I've not had since July 2015.
Firstly, I started to run after three months, and then my physiotherapist said I could cycle for 30 minutes on the turbo trainer after four months. It was on this stationary mount where I regained an awareness I seemed to have forgotten.
Without having pushed one pedal in nearly 18 months due to illness and injury, each revolution of my slow pace woke up a child-like playfulness within, and simultaneously the muscles in my face began to contract – I couldn't stop smiling!
I wasn't cycling fast, or for a record-breaking distance, but simply enjoying the fact that I was back on my bike, and doing something I loved.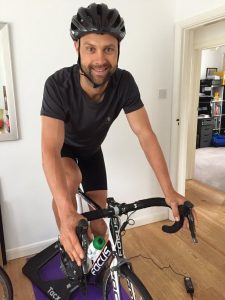 For many years I've taken my health, and what that allows me to do for granted, and within these 30 minutes of pushing the pedals I realised that I didn't only need to celebrate the massive record breaking results in my life, the day to day achievements, but also the fact that I am starting to be able to live the life I love living on a daily basis.
Gratitude.
These 30 minutes while cycling in my lounge room highlighted and amplified the need that we all should remember why we do the things we love, and not take these precious things in our life for granted, because with a blink of an eye they could be gone forever.
Two questions to finish with
Do you feel excited each time you do something you love, like it was your first time?

If not, what's inhibiting your inner passion for this once loved pastime?
Luke
Dream Big – Live Life