Having only been on 6 runs in the previous 3 months (recovering from shoulder surgery) prior to a my DNF (altitude sickness + dehydration) at The Trail Verbier Saint-Bernard mountain ultra-marathon through the Swiss Alps a week earlier; I wasn't exactly fighting fit to take on the 100 kilometre Race to the Stones (RTTS).
The race follows the iconic Ridgeway that links the Chilterns to The North Wessex Downs, and with several options of how you can run or even walk (yes walkers are encouraged) the event from 100 kilometres non-stop, 100 kilometres over two days, or even 50 kilometres on a single day, there is literally something for everyone who wants to test their limits.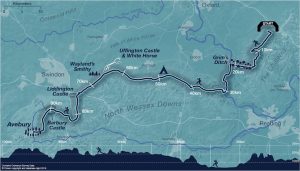 My goal for this race was to simply finish injury free, and enjoy being out in the English countryside.
Two words sum up RTTS in my opinion, phenomenally organised, it's an event that I won't be forgetting anytime soon.
After signing up to the race online (www.racetothestones.com) I received regular emails for advice, tips, and training guidelines in preparation for the event, with this amount of support even, it's no wonder this stunning endurance challenge has been named UK's #1 ultra-marathon!
I decided to take on this iconic course over 2 days, and wanted to enjoy my weekend of running, rather than burying myself deep into the pain cave.
After leaving my overnight bag with the organisers at the start line, they transported it for me to the aptly named Basecamp at the midway point. Now I just had to cover the 50 kilometres between the start line and this hub of excitement, and then my ego thought of an idea that stuck in my head.
As I waited in the starting pen with the elite runners, some doing only day 1, others the entire distance non-stop I wondered, or I should say my ego wondered just how fit I was, and what that looked like in terms of kilometres covered by my legs!
There are two things I love doing, challenging myself, and an experiment! Within the space of 5 minutes my mind-set went from "take it easy" to "run!"
"3, 2, 1 GOOOO" and I was off.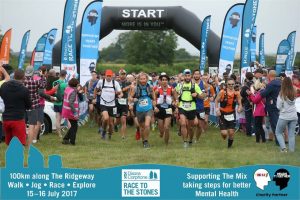 My ego's new plan was to simply run, not pace myself, not look at my GPS watch, just run at a comfortable speed, and enjoy the trail. When I say comfortable speed, I mean, regardless of the fact that I was running 50 kilometres.
I still walked the first few inclines, ticked along nicely on the flat terrain, and motored down the descents. I even took a tumble when a tree root "grew" about a foot in a matter of seconds and tripped me up. Instead of crashing to a halt, I performed what I thought was the perfect commando roll, and landed back on my feet and continued running.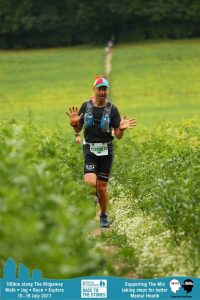 Things were going great, and I even surprised myself when I ran past the 30-kilometre sign feeling in pretty good shape. My ego was laughing hysterically less than 10 minutes later when my legs felt like they had been injected with concrete, and someone strapped a caravan to my back, that I now had to drag along. At this point, my ego vanished, and left me to pick up the pieces like it always does.
How fit was I? 
My experiment's results were 32 kilometres in 2:36 hours fit. I'll be the first person to say that this means absolutely nothing though. I didn't bonk from lack of food, nor was I dehydrated, very simply, I found out where my fitness was for running at that type of pace. Was this information useful? Not really. Was I glad I let my ego take the reigns? In that very moment, definitely not!
It took me over 2 hours to cover the remaining 19 kilometres (we finished day 1 at 51 kilometres) which isn't slow in my opinion, but it was compared to the pace I had been running.
As I hobbled to the end of my day, after enjoying some breath-taking views along the thoroughly marked route, and smiling each time I saw a photographer or random well wisher along the path, I entered Basecamp, where I would be staying the night.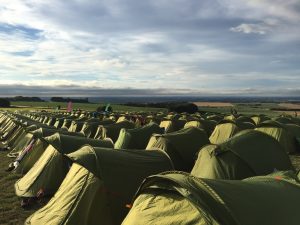 I finished day 1 in 4:45 hours for the 51 kilometres, rapid I thought considering my lack of training, but I was paying for it…
The reason I believe there is no other race on the planet like RTTS is that throughout the afternoon I was treated with a sports massage, hot shower (with great water pressure), my tent (where I would be sleeping) was erected for me (and with a blow up mattress), a variety of hot food, a bar, and plenty other luxuries from home. Alongside these unheard of amenities in the ultra running world, there were yoga matts, foam rollers, a chill-out area with bean bags, chairs, the days newspapers and several brands who were exhibiting their products and happy to have a chat.
I thought I was in a dream!
Day 2 started in a relaxed manner; with all those who stayed overnight able to leave at their leisure between 6-7am. As I passed out before 9pm the previous evening, and my entire body felt exhausted on waking up at 5am, I would be taking today very slow and steady. If my ego decided to rise today, I would squash its intent even before it had any cruel ideas to inject into my head. I got some relief after 2 hours of shuffling when my legs felt slightly lighter, and I nearly broke out into a stride, rather the shuffle I'd been doing.
My spirits were high though, as I felt I gave everything I had yesterday, and today I was simply out to enjoy the scenery while putting one foot in front of the other.
I was living life and smiling while I was doing it!
It was always an exciting time when I'd see a sign stating "1km to next Pit-Stop" as each volunteer at these well-stocked fuelling stations were always cheerful, and created energy from their support.
As I closed in on finishing yet again another ultra-marathon, the course looped around some of the prehistoric standing stones in Avebury, which of course, had a photographer perfectly placed to capture each runner who had just ran to these stones.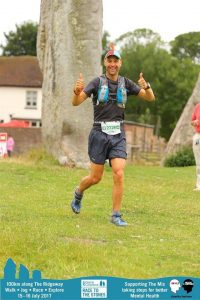 The final 600-metre stretch was down a long straight road, headed straight for the inflated finishing line arch. Crossing the line I was draped with a finishers medal, and greeted by a welcomed fanfare of supporters, event organisers, more food, drinks, showers, toilets, medics, and a bar to celebrate the amazing achievement that is completing an ultra-marathon!
I finished day 2 in 5:48 hours, and was extremely happy with surviving my weekend of running.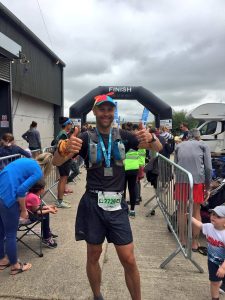 I was blown away with just how well RTTS was organised by Threshold Sports, the buzz from the event may have just enticed me to take part in their two other races in 2018, Race to the King and Race to the Tower, so who wants to join me?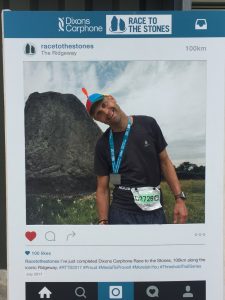 Luke
If you're training for a race, wanting to go faster, longer, or simply finish, then I offer online coaching and phone consultations; email me at luketyburski@gmail.com for more information.