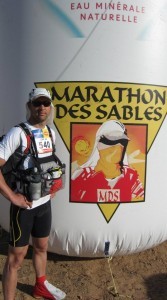 I must thank everyone for all the support I received before and during the race, it was overwhelming just how many people followed my progress, and hearing stories of people getting addicted to the webcam to get a glimpse of myself or another runner doing something interesting across the finishing line has made me appreciate the immense support I had.
My goal was to finish in the top 50, unfortunately I fell short of that with only finishing 214th, for those of you who were following me closely probably realised along the way something was wrong, I had a few little problems, but to understand exactly what happened, here is my MDS story.
Arriving in Morocco with the rest of the UK contingent on a chartered plane, it was a lot colder than I had expected, and in typical airport fashion, it took several hours to clear customs then be shuttled to the hotel. The following morning we were all up early to board a bus for the 3 ½ hour trip into the middle of the desert. The bus trip took us up and down and around several bends, with my stomach not having the greatest of times at all, but my new friend Jamie (Croc) who I was seated next to was visually hurting a lot more than I was.
We eventually stopped, but still had another 30 minutes of travelling in what could only be described as cattle trucks to our camp, and the races start line.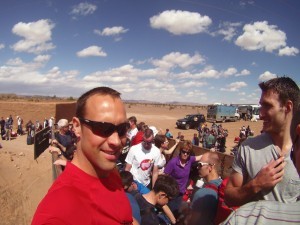 We spent the first two nights in the desert getting to know our tents mates, and experiencing what life was going to be like over the following week. I shared a tent with seven other guys, two of whom were from The Royal Navy, and two were Royal Marines, we all got on extremely well and was a great laugh, even though none of the non military guys had any idea what the military guys were talking about when they were using their slang. In typical Luke fashion I would annoy the hell out of them by simply referring to them all as the army boys, and ask them all types of questions of "What's it like in the army?" and "Do you have this and that in the army?" It made me laugh at the very least! But as I said we all got on very well, looked out for each other, encouraged those who had tough days, and there were plenty of jokes flying around the tent! The remainder of the tent was filled with Adrian a determined Englishman, myself, Croc, and Rob a random South African, all top blokes!
DAY 1
33.8 kilometres
It was finally here, the previous five months of my life had been dedicated to this race, I have lived and breathed an elite ultra runner's life, and now all that hard work and dedication was to be put on the test.
As the field set off, with helicopters hovering overhead I felt an immense source of energy, courage, and spirit within me that this was my race and I was ready.
I set off at my own pace, feeling comfortable, check point one came and went, I was feeling fine. We had a couple of climbs, they were fun, I was feeling fresh, reminding myself it was day one and to not push too hard to early, so I was happy to just cruise along. We then had a technical descent between rocks and sandy passages, I managed to get to the bottom (which was about 12kms to the finish of the stage) but as the terrain flattened out my knee (or actually ITB, which was the injury I was carrying into the race and the reason I had an injection two weeks prior to the event) flared up badly and forced me to a halt; I couldn't move for a minute or two, then was able to walk, although very gingerly. After only 20 kilometres of the race completed, I now had to carry this painful, inflamed swollen knee. I continued to walk for seven or eight minutes, afterwards I was reduced to a hobble but pushed myself to run (although much slower than what I would have liked.)
Finally I arrived at the finish, knee absolutely killing me, at this moment I knew my goal of a top 50 placing was out the window and the aim was to survive and finish the week. It was very disappointing to know that I didn't even manage on day pain free, and that I was going to complete the rest of the race with a sharp burning pain in my knee. Frustration didn't even get close to what I was feeling, even though I finished the stage in 28th position, I felt like my race was over even before the start of the second day.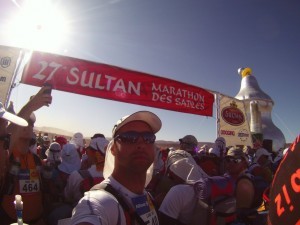 DAY 2
38.5 kilometres
Waking up to a very warm morning I was in a positive frame of mind and thought that my knee may have settled over night with some rest, and I will be ready to go again, then I stood up and tried to walk. I was hobbling already after one stage. I got to the start line with a goal, run as fast as I can for as long as I can, if I need to walk then walk, but then run hard, if it hurts keep running until my knee/body would not let me run anymore.
My mind was strong even if my body didn't mirror it, so I thought if I kept positive, and made my head be the boss rather than my body; I could get through.
The stage started with a lot of sand, which I found out quickly would be my nemesis in numerous ways. The sand made my knee pain worse, as it was more strenuous than the rocky paths of the day before, so the 6 kilometres of sand dunes shortly after the start were a constant pain filled land mine. Loot of walking, falling down when my knee gave way, and if I'm being totally honest, a couple of tears as I was running through the pain.
Coming into the second last check point of the day, hobbling like an old man who needs a hip replacement, the doctor was called to attend to me. I laid in the medics tent as he was asking me all sorts of questions, I simply told him, "all you can do for me mate is give me a massage down my ITB, some pain killers, and high five; and that's about i!" He laughed and agreed.
After a quick 20 minute massage to loosen things up, and several pain killers, I was out of the tent and heading across a dried up lake to the next check point which was located 10 kilometres straight ahead, I was told it was 46 degrees as I hobbled off. The first two two kilometres were horrible, I remember filming a few more tears at this low point, but I didn't want to stop/walk/or slow down, so I kept pushing, then after 20 minutes the pain decreased and I was able to run, so run I did. I simply thought "Luke you have 8 kilometres to the next check point, get there as quickly as possible while your not in immense pain."
I worked hard and made the check point in a decent amount of time, and surprisingly with little pain. I now had 11 kilometres to the end of my second day, with all different types of terrain; the plan was to simply get through it FAST!
I really worked hard on this final leg, there was about three kilometres of sandy passages where I gritted my teeth and dealt with the searing pain piercing my knee. Staggering across the finishing line after day two was a relief,  it was a tough day on my body which was constantly in pain the entire way.
Back at the tent as I was waiting for the others I took my shoes and socks off to find mountains of blisters EVERYWHERE! The blisters were all over all my toes, under, and between them as well. I was so focused on my knee pain I hadn't felt my feet at all, lets just say it was tough to eat my food after seeing them. After several attempts from my tent mates urging me to seek medical help for my horrendous feet, I finally decided to go and have them looked at, the doctor simply said "wow" I bet they hurt, and went on his way to slice and dice through my blisters and wrap my toes up to try to stop any infections.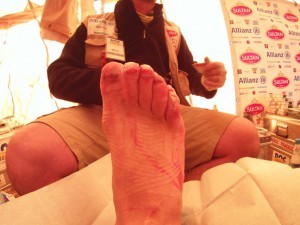 DAY 3
35 kilometres
With very little sleep on the desert floor due to an upset stomach, my knee and feet pulsating with every heart beat, combined with several of my tent mates (who will remain anonymous) snoring like grizzly bears throughout the night, I struggled to stand up in the morning. It was going to be a long tough day.
My feet felt like they were stepping on razor blades, my knee (to my knowledge) had a hot sharp poker inside it, stabbing me with each step; I had just short of a marathon to run. My moral was quite low today due to the amount of pain I was in, and the total realisation that a top 50 position was beyond my reach (even though I started the day in 44th position overall.) All the boys in the tent got behind me and encouraged me to keep working hard and push myself, I had a great sense of support from each and everyone of them, this literally helped me to stay focused throughout the day. Thanks tent 70!
I think by now you get the picture of the pain I was in, it simply got progressively worse with each step, and each day. I also realised that on sand I was unable to walk up or down hill, (due to my knee) unless I hopped down on my left leg. Any flat sandy passages I hobbled through, but at times needed to walk (bodies choice not mine).
Setting off as fast as I could for the third stage, I kept my head down and worked as hard as I possibly could. It was hot, the organisors decided to give everyone an extra bottle of water at a certain check point due to the temperature potentially reaching above 50 degrees centigrade. (it ended up reaching 52)
After this stage everyone was talking about how beautiful it was with all the mountains, valleys, rock cliffs, and dunes; I saw none of this. I was in my own little pain box trying to push forward as hard as I could and as fast as I could manage. The last 10 kilmetres of the stage went something like this, hobble hobble ARGH, stop for 30 seconds, walk one minute, hobble hobble ARGH, repeated until the days end..
I wasn't even bothered that I finished, I just wanted to get off my feet, and stop limping.
Unfortunately, this evening my upset stomach got worse, my guts were not in a good place (you can imagine the rest). Also my feet were noticeably gotten worse, and I needed to see the doctors as there was blood coming through some of my bandaged toes, and the pain had become considerably worse. The doc wrapped me up again, but several of my toes had become infected, so I received a box of penicillin and told to go and put my feet up for the rest of the afternoon/evening.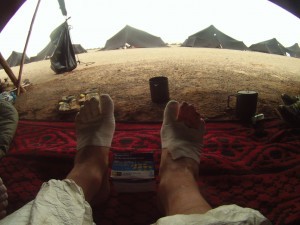 But the relaxed atmosphere of the camp soon became panic when we were hit with a massive sand storm that afternoon and throughout the night, forcing most of us to sleep cocooned inside our sleeping bags with sand goggles on, an interesting experience to say the least.
DAY 4
81.5 kilometres
With the elite top 50 runners setting off three hours later than the rest of the field, the rest of the runners were preparing for what was going to be the toughest day of their lives. I was in a good mood even though I knew I had an epic battle to get around the days stage. My game plan was to run hard when I could, walk when my body wouldn't let me run, but always keep moving forward at all costs, with this strategy I should get back to camp (after leaving at 8:30am) around 11pm I thought.
Well, as the daily messages were read out to our tent, the words "congratulations, you have someone starting at the later time of 11:30am as they are in the elite top 50" made my heart drop and head shake profusely with disbelief. The messenger said "number 540 well done, your starting at the later time." I was gutted, but also quite confused as to how I manage to remain in top 50 after yesterday's long, tough day.
As the main pack of runners set off, I watched and cheered them on truly wishing I was amongst them. After the last runner started their epic day the rest of the top 50 men and top five woman, made their way back to the few tents which were left standing to lay down and relax. As I began to speak with numerous runners I knew I was clearly the odd one out. These guys had had several top 50 finishes in the MDS, ran some of the most grueling ultra marathon races throughout the world, at least 15-20 were sponsored by nutritional, or running equipment companies in some way or form, and the bloke who was resting next to me had run a 24 hour race in Hong Kong six months earlier finishing on the podium. Six months ago I was an injured football player, and he was running 100 kilometres throughout the surrounding mountains of Hong Kong. All I could do was laugh when that inevitable question was asked, "what other races have you done, have you won any"?? After a large smile came across my face, I simply replied "mate, this is my first ever race, I'd never ran more than about 10 kilometres until five months ago." With a puzzled look and several more questions, they all thought I was absolutely insane, and crazy; but at the same time gutsy choosing the MDS for my first ever race.
As I and the other "elite" runners lined up side by side in the middle of the desert for the start of this 81.5 kilometre stage, I thought to myself, just keep moving, deal with your knee, block out the razor blades in your shoes, and finish this thing!
We set off and immediately I went to the back of the field in roughly 40th position with a few other stragglers who were also visibly hurting.
We hit some small dunes after an initial flat sandy stretch, this pulled me to a grinding halt with my pain intensifying across each dune, and it wasn't long until I had been passed by all of the late starters. But today wasn't about racing anyone except myself, and getting my battered body across the terrain that I would encounter.
Sitting at the back of the entire field was an interesting experience, there was no pressure, I was running my own race, I had no one around, it was almost like I was in the Sahara desert all alone; a totally surreal feeling.
After a huge rocky climb, was a 20% gradient descent down a sandy dune for a couple of hundred metres, I took a few tumbles, but reached check point one at the bottom. I was feeling ok, and dealing with my pain. Leaving the check point and hobbling over some more small dunes I started to feel quite ill, light headed, and with little energy, my guts were painful, and felt twisted, I was forced to a walk.
After attempting to hobble/walk for a while I literally was unable to move anymore. I was swaying side to side, I wanted to throw up and go to the toilet but couldn't, I ate, I drank, but it just made me feel worse. I couldn't control my head it was all over the place, I was alone, in the heat, and not in a good way at all. My mind was saying "one foot in front of the other, aim for that mountain," which I thought was the direction of the next checkpoint in another six kilometres.
I don't actually remember what happened next, but I guess I kept moving forwards at a slow pace??
Due to starting late I was one of the final people arriving out of the entire field into checkpoint two, I received my water and then was taken to the medical tent where a doctor laid me down, elevated my feet and asked me several questions. My memory is very patchy about the part of my race, but I think I was told to drink a whole bottle of water with some sort of salt solution, and take a few pills to settle my stomach as I kept throwing up. (We all thought I was dehydrated, but the next day after speaking with the same doctor we realised that I had a stomach infection, which was related to the previous days before stomach upset).
After drinking the bottle of water, I was told if I could pee and feel ok, I could carry on, but that was the last thing on my mind, the first was to get out of the tent to be vomit again!. Without too much detail, let's just say the majority of the six litres of water I had already consumed that day ended up on the sand next to my feet in numerous ways.
I staggered back into the medical tent surrounded by doctors and nurses keeping a close on my me, once I'd laid back down on my sandy bed that was the deserts floor, the doctor put it to me like this. "You have 57 kilometres to the end of today, you cannot make it in this condition, you have two options. One, I withdraw you from the race now (you can imagine I was shaking my head profusely as he was saying this) or two, I give you an IV drip and if you can pee afterwards and you feel/look ok you can continue." (Having an IV also incurs a two hour time penalty, but that was the last thing on my mind)
I simply lifted my right arm up towards the doctor and said "let's get started!"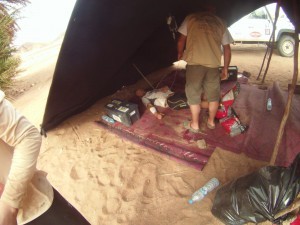 After three litres of IV, and being in the medical tent for two hours, I was finally cheered off by the last couple of medics left at the check point, even though it was closed as I was the last person to leave.
There were 14 kilometres until checkpoint three, and it had a cut off time to continue, I had three hours to get there!
I felt this next stretch would define my MDS experience, if I struggled badly I would be forced out of the race, if I stayed steady I would make it with enough time to spare. The following portion of this stage was not about making the next check point as fast as possible, it was more than that, it was a race, a race to stay in the race, I HAD to make it, there was no two ways about it.
With this analysis taking the first two kilometres until I hit a sandy passage, which coincided with my first experience of a running through a sand storm with raging winds. I let out a huge roar and simply said to the desert "bring it on" as I put on my sand goggles and forged forward on my mission of survival!
I eventually made check point three in enough time; just as it begun to get dark. I had something to eat, refilled my bottles, and then put on my head torch to set off into the night for what was going to be a mammoth evening of shuffling.
The next two check points involved a combined distance of 24 kilometres, with 22 of those being huge sand dunes. It was a strange experience being in the desert at night, out in the open air with only the luminous stars to keep me company.
As I hobbled, walked, strolled, yelled, screamed, and cried throughout the night crawling up some of the steep dunes, and trying not to fall on their descents; it was a constant up down up down pattern of movement throughout the next few hours. I kept mentally strong by remembering all my supportive friends and family, and just took things one check point at a time. Finishing the long stretch of dunes, I passed through checkpoint four and five; I had one checkpoint to go until a the final nine kilometre stretch of sand to the finishing line for this long stage.
Hitting checkpoint six was a relief as I had run out of food, but my rationed bottle of water was enough to energise me to set off for the final segment of the stage. I hit sand immediately which was agonising for both for my feet and my knee, I was reduced to walking with a hobble now, but i didn't care, I was less than 10 kilometres from the finish.
I began wondering off course, staggering, and falling to my knees at times, extreme fatigue and sleep deprivation was kicking my butt, keep putting one foot in front of the other I whispered to myself.
It was roughly 2am and as I was reduced to a slow walk at this time, I was now getting cold as a result. With no long sleeve jacket to put on (a decision I made to keep my backpacks weight down) I needed to push a little faster in order to keep my blood pumping quicker to keep me warm, this came with a price though, with increased pain to knee and feet and a stronger feeling of fatigue.
After a while I could see the glow of the finish line, and without a thought I broke into a hop hop hobble, but only to immediately come crashing down in the sand with my knee giving way. I was hunched over on my knees in the sand, hungry, in pain and insight of the end, I simply had to keep going. I picked myself up and pushed as hard as I could until the finish line.
I had ran into every checkpoint of the race so far, and ran (well tried to anyway) across every finish line as too, so to finish this stage wasn't going to be any different. I picked up the pace to a lets say a faster forward motion than before, and eventually crossed the finish line. The webcam placed at the end of the finishing chute caught my eye for the first time in the race, (I honestly never took any notice of it after previous stages.) I walked straight up to it and pointed to my heart, as this is what got me through the 81.5 kilometres I just covered in just over 15 hours, finishing at 3am local time.
Hobbling to my tent, I managed to eat my recovery food, and get ready for bed. My feet were quite swollen taking me 30 minutes to get each sock off, and with my bloodied bandages on my toes, and a knee which was on fire, I laid in my sleeping bag knowing I won todays battle!
Day 5
Rest day!
After eventually getting to sleep at around 4am, I was able to get five hours of sleep before needing to eat again, and then headed back to sleep for a few more hours. Although I was resting, I knew I wasn't in a good way as my knee didn't want to bend, and my feet were throbbing while I was simply lying down. After several hours of dosing and eating, I made the tough decision to head over to the doctors tent to have my feet looked at.
Well, my feet were pretty bad to say the least, after the second stage I had blisters everywhere, very little skin on my little toes, and bits of raw flesh here and there. Now after another two days of running, I had literally no skin on my little toes (thanks to the doctor's scalpel), my nail beds were all puffed up with blisters, and the blisters I had previously were now bleeding. Although I had been in the doctor's tent each day for treatment, and my feet taped, the last few days ruined my feet.
Several doctors, nurses, and other runners looked and took pictures of my toes, some of their faces were priceless, and they all said the same thing "how are you still running, and you are crazy!" My toes were MDS celebrities for five minutes. Afterwards my poor knee had several more doses of painkillers pumped into it to try and relieve some of the pain, they didn't work…
That afternoon something miraculous happened, it not only poured down with rain, but we had a hail storm! That's right, in the middle of the Saharan desert it was hailing down, none of us could believe it, what a way to finish our rest day, with being pelted with hail.
Day 6
42.2 kilometres
Marathon day!
As I gingerly got out of my sleeping bag this morning to go to the bathroom, I was met with immediate laughter from my tent mates, they all found it hilarious how I was "moving" and more so, that I had to run a full marathon starting in two hours. I laughed too, but knew it was not going to be a laughing matter once I started the days stage.
Having ran the entire race so far alone with only brief encounters of small chit chat with other runners, Croc and I decided to run together. This came at a great relief knowing I had someone else to share the pain of running a marathon on this day. Croc received his nickname, as one night while everyone was heading off to sleep, out of nowhere, not even closely related to the conversation topics of the tent that night he asked, "Luke, is Crocodile Dundee still alive??" I laughed so hard and said from now on you're known as Croc!
We headed off together quite slowly, me hobbling as usual but a lot slower then previous days, and Croc urging me to run faster as I was slowing him down. I wanted him to run his own race but he wanted to stay with me which helped me to stay strong. But, after 8 kilometres he headed off and I was alone again, hitting checkpoint one was a relief as it was quite rocky terrain and my feet and knee were struggling a lot.
Two kilometres into the next stage I had a tear in my running shorts, so my skin was rubbing on the lycra of my other leg. Where the hole was began to feel irritated, but I just brushed it off and thought I will have the docs tape it up at the next check point. Arriving at the checkpoint I heading straight to the medical tent to see the state of my inside leg and have the doc tape it up. To my amazement the rubbing had removed the skin and some flesh, and I had a steady stream of blood flowing down half of my leg, the doc applied some antiseptic, which felt how you could imagine, taped it up, and I was off.
I had another six kilometres of dunes in this next stretch, I hobbled when I could, walked when I had no other option, but always pushed forward.  With tomorrow only consisting of roughly 16 kilometres, if I could get through today, I would be close to the end.
At the end of the dunes I saw Croc, he was hurting, the week had caught up to him. He had helped me to get through the first few kilometres of the stage, it was now time for me to return the favour by encouraging him through this dark patch of his race he was experiencing. Together we shuffled and urged each other on, we stayed together for the rest of the stage, and picked each other up when we both literally fell. Crossing the finish line today felt like I used a lot of my strength and power I had stored deep inside of me.
The biggest disappointment for me was as soon as I finished the stage and stopped running I wasn't tired, even though I had just completed a marathon. I headed back to the tent and all the other runners were flat out exhausted but I was fine, so I began my post run routine as per usual involving stretching, cooking food, and eating. I was not fatigued, tired, or even had the slightest need for sleep. My injuries were inhibiting me from running fast enough to get tired. Everyone in our tent just relaxed for the remainder of the afternoon watching other runners cross the finishing line of their desert marathon.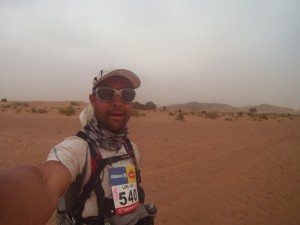 With the running over for the day, the camp was treated with a surprise concert, a 12 piece orchestra with a soprano stepping in for several pieces. It was a surreal experience sitting in the middle of the desert, under millions of stars shining brightly while listening to a live orchestra, simply amazing, and a highlight of my trip!
Day 7
15.5 kilometres
Final Stage!
Everyone was excited about today, it was the final day of the event, although with nine kilometres over the biggest sand dunes inMorocco, this didn't deter everyone at the start line from smiling.
As I set off with shuffling with Croc once again a little past 9am, I was moving very very slowly. I soon realised how slow I was "running" when people who were casually walking started overtaking me, and then I heard Croc yelling at me "C'MON, what are you doing?" I yelled back, "I'm running as fast as I can!"
He soon left me to fend for myself; I don't blame him at the pace I was moving. I continued to hobble and strain with the feeling of a thousand razor blades cutting into my feet with each step, and a scorching hot, sharp poker jamming into my knee, I was so close to the end, I just needed my mind to stay strong for a little while longer. Making the first and only checkpoint of this last stage signaled the final leg of the 2012 Marathon des Sables, I had less than 10 kilometres remaining of this epic adventure. At the checkpoint slurped some water, and headed off into the mountainous golden peaked sand formations.
The dunes went something like this for me, hobble hobble, walk, up down, argh, up,down, argh, walk, hobble etc.
I caught up to Croc with about 4 kilometres remaining of the entire race, we decided to work together (as both of us were hurting) until the end. The last 500 metres, with the finishing line in sight, I really struggled, so I urged him to finish strong and I would meet him at the end. Dragging myself over the last dune and down into the finishing chute with a few hundred people out to cheer all the competitors across the line really lifted my spirits, and made me realise the great feat in which I had achieved. Finally, I crossed the finish line, I had done it, I finished the 27th Marathon des Sables, and I had done it basically with one knee, bloodied, blistered, and infected toes from day two. None of this mattered now as I was finished!
With all the elation and joy that was being spread around while people constantly finished their own MDS journeys, I couldn't help but feel dissatisfied that I wasn't able to work as hard as I wanted, and to the level of fitness I had trained myself to have. But I reminded myself this can be the nature of sport, and in this new direction of my life I was now taking it was not about the destination, but all about the journey.
Although I was battered, I had completed the equivalent of six marathons in seven days across the Sahara desert. I had a great feeling of relief that the race was over, and that I would not have to run anymore with excruciating pain.
Crossing the line I was given a medal from the race organiser Patrick Bauer, a bag full of food, and ticket for a bus which left in 45 minutes for our 5 ½ hour journey back to the hotel.
Sitting with some of my tent mates who finished before me, and being harassed from the desert children for any sort of kit they could get their hands on (eventually I gave in and two lucky kids were the owners of my hat, and buff) we all laughed and chatted about the week that was, and were all defiant we would never do it again!
Post race
I spent two nights in Quazarate before flying back to London, as my feet were bloodied infected stumps, walking was an intense task. After my first shower in nine days, and having my feet taped up again, it was time to eat. I the food never had a chance, as soon I had my plate in front of me filled with cous cous, salads, chicken, rice, and other colourful Moroccan dishes which I had no idea of their ingredients it was all inhaled before I slowly headed back to my room for a comfortable nights sleep.
The next day we all went to the awards presentation to see the winners be given their trophies, and the rest of us were given our bright yellow finishers t-shirts. My tent mates and I walked around a local market haggling for bargains, until it was time for an afternoon nap, followed by our final meal together as tent 70 of the 27thMarathon des Sables. After dinner, a few well earned beers were in order before retiring to our rooms for the last nights sleep in Morocco.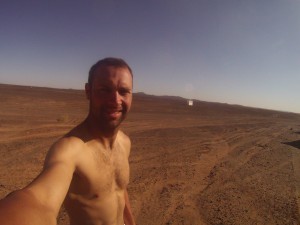 This was my MDS Adventure!
To watch it, check out my self filmed documentary It's not a Race…It's a War!
The Adventure. The Travel. The Challenge.
LTTA