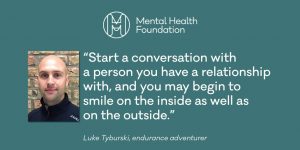 The past week has been Mental Health Awareness Week, and I teamed up with The Mental Health Foundation to educate, promote awareness, and help others who suffer from mental illnesses feel like they are not alone.
The focus of the week was on relationships, and how they play a huge part in helping people deal, and overcome their struggles.
Although a very rewarding week, having been interviewed numerous times, involved in discussions, providing quotes for articles, and speaking up about my struggles has been emotionally draining as well, as it's still not an easy thing for me to do.
But, I know that I'm making a difference by helping others feel like they are not alone, while trying to remove many stigmas that have been attached to people suffering from a mental health illnesses, especially men.
I'm proud of what myself, and the many others from The Mental Health Foundation have achieved last week, and am looking forward to continuing our efforts into the future to continually raise awareness, educate, and provide support for those who suffers from a mental health illness.
Some of the press i've been involved in.
Huffington Post Live Chat/Mental Health Foundation Blog
Huffington Post Promotional Video